TEKSOFT
Products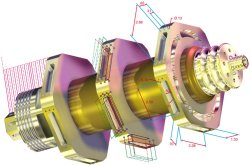 OpenGL Graphics
OpenGL is a high-speed graphics standard that allows real-time, dynamic rotation of textured, shaded parts.
Thanks to ProCAM's OpenGL implementation, you can display surfaces as shaded, wireframe or with hidden line removal in real time, not just as a temporary view option.
OpenGL also provides interactive highlighting of surfaces and entities and high-speed rotation of surfaces.
You can switch quickly between Wire Frame and Shaded mode by pressing the W and S keys on the keyboard.
A Surface Transparency option has been added to the Surface Display dialog box that allows you to adjust the amount of surface transparency. A slider controls the display: if set all the way to the left, surfaces are totally opaque; if set all the way to the right, surfaces are totally transparent.

Geometry
Just like its predecessor, ProCAM II can define toolpaths on geometry created using its own powerful wireframe and surface modeling tools, or on imported parts using built-in translators for popular file formats such as IGES, Parasolid, DWG, or DXF.

New and Improved Cutting Strategies
ProCAM II includes a host of improvements and additions to optimize cutting operations:
New Drill Roughing,
including Pre-Drill calculation
New Continuous Fillet Surface Cutting
New in Z-Level Cut Cycle -
Z-Link Controls -

Follow Part Profile
Horizontal/Vertical Step
Spiral Transition
Retract Between

New in Z-Level Cut Cycle -
Lead-in and Lead-out control
Improved Z-Level Cut Cycle -
Core and Cavity Cutting Options
New in Slice Cut Cycle -
Options for Transitioning Between Slice Cuts

Horizontal/Vertical
Loop
Dogleg Left/Right
Balloon
Retract

New in Slice Cut Cycle -
Selectively Machine Areas Using Contain and Avoid
Improved Rough Cut Cycle -
Machining Depth Control

Grid - approximates surface model
Exact - more versatile, using precise geometry

New in Rough Cut Cycle -
Depth Processing Options

Sorting By Area or Level
Surface Finish Options
Hit Flats

Improved Rough Cut Cycle -
Additional Core/Cavity Cutting Options

With Cavity
Run Face Cycle - cuts cavity AND removes all higher stock

Improved Curve Cut -
Machining Depth Control
Improved Free Form Cut -
Machining Depth Control
New Support for 3D Projection Surface Drilling
ProCAM II brings ProCAM's capabilities up-to-date with a new look and feel - a completely revamped Microsoft Foundation Class (MFC) User's Interface.
MFC offers familiar functionality to users of other Microsoft products.
This new interface features the ProCAM Manager, a Windows Explorer-style pane that contains three tabs - Info, Layers, and Operations.
The Operations tree in the ProCAM Manager provides an outline view of the operations defined for the active part.
The graphical display in the tree makes it easy to define operations and see how the part will be machined.
To change the machining order, simply drag and drop the operations.
When you right-click on an operation, the shortcut menu provides a list of applicable options. The Operations tree also contains a controller item that identifies the current controller and a Tool item that lists the tools that are used in the operations.
Customizable features of the new User Interface include the ability to move, dock, hide, display, or resize toolbars to suit your needs.
In addition, you can adjust the size of the work area and the ProCAM Manager.

By employing a true Windows GUI, ProCAM II provides a host of more user-friendly controls, including:

InfoBar

The InfoBar tab in the Part Manager displays the parameters when ProCAM requires you to enter a system parameter or graphic value (such as X, Y and Z coordinates). The keyboard input displays in the InfoBar at the I-beam cursor location. When you right click in an input box, the shortcut menu lists the available functions (e.g., Cut, Copy, Paste).
Right-click Shortcut Menus
You'll find extensive right-click menu support for accomplishing your most common tasks. The options displayed on the right-click shortcut menu vary depending on where you are when you click. Only the options that you can do appear. You can right-click in the Part Manager, in the work area and on a toolbar.

Layers Management
The Layers tab in the Part Manager displays the layers defined for the active part.
A right-click shortcut menu provides commands for creating a new layer, turning all layers on or off and deleting unused layers.
Check boxes indicate the layers that are turned on and off.
Change the current layer quickly by double-clicking the layer you want current. A red box around the layer icon indicates the current layer
Rename a layer by highlighting the layer, pressing F2, then typing the new name and pressing Enter.
Reorder the list alphabetically by Layer description or numerically by Layer number by clicking the Layer or No. header button.
Solids Machining
TekSoft has developed Machining Intelligence for Automation, a suite of tools that automates the generation of toolpath based on a customizable database. ProCAM II now incorporates these tools in the optional Solids Machining package to generate toolpath directly from the solid model. Solids Machining generates G-code for solid models created in any solid model design program that supports exporting files in Parasolid ASCII (x_t) or Binary (x_b) format. Features include:

Feature Recognition

Automatic (AFR) - Automatically identifies prismatic machinable features.
Interactive (IFR) - Interactively create machinable features for solid models.

Automatically or interactively create patterns of identical features.
Automatically creates work planes.

Knowledge-based Machining (KBM)
The Technology Database (TechDB) captures your company's methodology and applies this information to further automate the NC programming process. The TechDB contains a complete tooling library in metric and inch. The Machine Tool and Controller database provides the ability to incorporate specific machine parameters. The Technology Database also encourages facility-wide consistency and rules-based manufacturing.