TEKSOFT
Products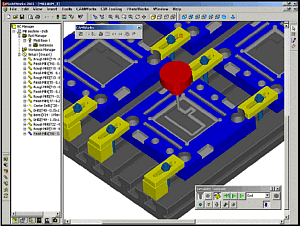 Additional Features and Tools
CAMWorks provides numerous integrated features and visual tools to improve productivity including:
Drag and drop reordering of operations before generating toolpaths.
Graphical toolpath generation display.
Material removal simulation can reduce the need for dry runs at the machine tool.
Step Thru Toolpath command includes options for viewing toolpath movements one movement at a time, a specified number of movements or all movements.
Reorder Tool command assigns tool numbers sequentially for manufacturing environments that require sequential tool order.
Completely integrated post processor supports virtually any CNC machine tool.
Universal Post Generator can be used to customize the way code is output.
Best-in-Class Choice
CAMWorks is a best-in-class choice for users who want an optimum modeling system (SolidWorks) and an innovative manufacturing, feature-based CAM solution.


Fully integrated to operate within SolidWorks, CAMWorks is considered by many to be the most advanced CAM solution available for solid machining. CAMWorks is also the first CAM solution to offer knowledge-based, feature recognition and associative machining capabilities within the SolidWorks environment.

This close integration means:
When you are using SolidWorks, the CAMWorks machining tree and commands are available with the click of a button.
You never have to leave SolidWorks to generate toolpaths.
CAMWorks uses the same SolidWorks geometry to generate toolpaths to ensure the part you machine is the same part you have modelled.
Time-consuming file transfers using standard file formats such as IGES and SAT are eliminated.
Ease of Use
CAMWorks uses the familiar SolidWorks interface, so it is easy to learn and easy to use.
The CAMWorks Machining tree is similar to the SolidWorks FeatureManager design tree.
Items in the tree can be expanded, moved, renamed and suppressed using the same procedures as SolidWorks.
In addition to the familiar interface, online help and a "Getting Started" manual with tutorials will help you generate toolpaths and code from day one.
The "Getting Started" guide is also provided in an Adobe PDF format file.

Knowledge-based Machining
CAMWorks includes a Technology Database that allows you to capture and store your facility's machining methods, expertise and procedures.
This knowledge can then be recalled and applied in CAMWorks to help automate and promote consistency in NC programming and machining.
A manual override for all the automatic functions means the user is always in control.
CAMWorks also generates operations and creates stock automatically.