TEKSOFT
Products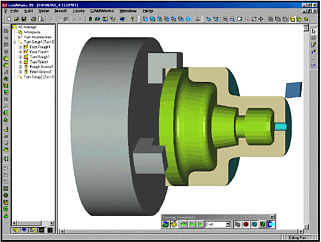 Technology Database
The Technology Database is shipped with data that is considered generally applicable to most machining environments.
In order to gain full advantage of CAMWorks, the user may want to modify this data and input additional knowledge that represents the user's expertise and the facility's capabilities.

The machining information in the database is divided into these categories:

Machine -
"Virtual" machines for all the CNC machines in your facility and the associated controller and tool crib.
Tools -
The tool library can contain all the tools in your facility.
Cutting Parameters -
Information for calculating feed rates and spindle speeds, workpiece materials and tool materials.
Feature and Operations -
The machining sequence and operation for each combination of feature type, end condition, and size.
Turning Features
CAMWorks Turning module contains the following machining functionality:

Automatic Feature Recognition (AFR) analyzes the part shape and attempts to define the most common machinable features such as OD turning, face cuts, holes and grooves.
AFR recognizes features on native SolidWorks part models or on solid parts imported via IGES, SAT, etc.
AFR can save considerable time when defining machinable features.

Interactive Turn Features CAMWorks provides an interactive Turn Feature command for defining features that are not recognized automatically or features that are not recognized the way you want to machine them.
The interactive definition of features is similar to feature definition in SolidWorks.
The command allows you to define machinable features such as Custom OD and ID grooves.
Features can be modified to add or remove elements at any time, to add or delete areas to be machined, or to limit the extent of the tool path.

Machining Operations
After machinable features have been defined, the user can generate an Operation Plan to machine the features on the part.
Machining operations include roughing, finishing, drilling, etc.
Machining operations are associated to machinable features.
The Operations tree provides an outline view of the operations.
Before generating toolpaths, operations can be customized including:

Suppress, delete and rename
Combine similar operations
Change machining parameters
Add machinable features
Change the machining order
2 and 4 Axis Turning includes :


Automatic roughing, finishing and single point (drilling, boring, reaming and tapping) cycles, and grooving.
Machining algorithms use the latest toolpath and gouge protection methods.
Cutting cycles provide fast, error-free cutting using diamond, flat and round groove, and cutoff tools in front and back turning configurations.
---
New in CAMWorks 2001 Turning
Improved roughing control.
Improved center drilling.
New drill and center drill retract options.
Improved rough canned cycle output.
Additional turn insert support.
4 axis turning.
Operation preview command.
New retract options.
Automatic setup sheets.
Double chucking simulation.