TEKSOFT
Products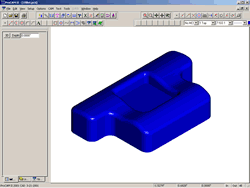 Wire EDM
Features 2 through 4 axis modeling and cutting. Two axis parts can be modeled with constant or variable tapered angles with numerous user-defined corner transitions.
Tool paths can be generated using finishing, skim cutting cycles, and core removal with tabs, glue stops and start holes.

Plasma/laser
Supports plasma, laser, torch and knife cutting with nesting and optimization.
Tool paths can be generated directly on CAD geometry or offset to the inside or outside of the part.
Generate parallel, perpendicular, or radial lead-in and lead-out moves.
Sharp corners along a tool path can be left sharp or automatically smoothed by adding a fillet.
Six profiling corner conditions.
External corners can be overshot and then approached with a triangle corner cutting technique.
Combination Punch/Plasma/Laser machines are supported with automatic pre-punched start holes.
Solid fill tool path simulation.
Open area avoidance tool fitting and optimization manager with support for levels, groups and order groups.
Punch
Punch includes automatic tool fitting, micro joints, automatic repositioning, optimization and macros. The user has complete control to automatically or interactively punch and nibble a part or a sheet of parts.
2D flat blank layouts or 3D formed parts can be modeled in ProCAM CAD or imported through IGES or DXF.
3D wireframe models can be unfolded automatically to develop the correct flat blank layout.
A fully integrated tool library allows the definition of both tool and die information.
Solid fill tool path simulation.
Automatic tool fitting selects the best tools from the library or standard turret load and automatically punches the part.
Optimizing reduces cycle time by sorting tools and determining the shortest tool path. The user has complete control over the tool sorting order with options to sort by tool size, station sequence, auto-index angle, etc.
Micro joint feature expedites programming of shaker parts.
Supports nine standard tool shapes and unlimited number of user-defined special tool shapes. Special tools can be used for punching single hits as well as for contouring part edges.
G-code output can be a combination of macros/subroutines or long code with support of canned cycles for linear, grid, arc and bolt hole patterns.
ProCAM simplifies the process of taking parts from design to manufacturing. Developed specifically for mechanical parts, ProCAM's Windows interface and CAD tools allow parts to be modeled quickly and easily. Each CAM module provides intuitive methods for fast and efficient toolpath creation.
ProCAM provides flexibility that empowers the operator to create and machine parts for each specific machining requirement.
Machine simple or complex parts that have been created using powerful wireframe and surface modeling tools, or import parts using ProCAM's translators for popular file formats such as IGES, Parasolid, DWG, or DXF.
The results are accurate, error free CNC part programs for virtually any 2½ through 5 axis mill, multi-axis turn, punch, plasma/laser, and wire EDM machine.

ProCAM provides all the features you demand for cutting complex parts quickly and accurately while maximizing the potential of the machine tool and the machinist. Most importantly, ProCAM increases your productivity from the moment you start to use it. Since it makes the process easier and faster, you have more time to work on more jobs. You really do get it all with ProCAM. Easy operation, increased flexibility and more productivity than you ever thought possible. What better tool can there be than that?

Turning
Turning has the power to handle the demands of today's lathes including multi-turret, multi-spindle, and mill/turn machines. Users can visually verify the part at any stage of the process through final form.
Includes automatic lathe roughing and finishing, grooving, threading, tapping and drilling cycles.
An integrated tool library and graphical tool definition wizard make the selection and the creation of special tools easy.
Allows users to reduce first-article lead time by analyzing cutter insert shapes, material conditions, and finish part requirements for each tool path.
2½-Axis Milling
2½-Axis Milling includes automatic roughing and finishing cycles.
Associative tool paths and machining information allow tool paths to be updated automatically as operation information changes.
When using pocketing and profiling routines to rough and finish simple or complex parts, gouge avoidance checking and correction assure part integrity.
Part features such as ribs and bosses can be represented as islands for cleanup and finish passes.
For profile pocketing cycles face and depth values can be captured from geometry. You can window pick areas including the outside pocket and islands, and ProCAM will sort the islands from the profile pocket.
Integrated toolpath simulation.
Generate 4th and 5th axis rotary programs for horizontal and vertical milling centers.
Surface Machining

Surface machining algorithms use the latest tool path and gouge protection methods of cutting faceted data.
Surfaces can be machined to exact tolerances set by the user.
Cutting cycles provides fast, error-free surface cutting over single or composite surfaces using ball, flat end mill and hog nose tools. Scallop height or step-over is user-defined to reduce hand polishing operations.
Slice cutting provides continuous machining across multiple surfaces for finishing and semi-finishing. Numerous strategies include planar, flowline, radial, spiral and single, double, or pocket/lace offset.
For 4 and 5 axis machining, tool paths can be wrapped about a cylinder.