ANVIL EXPRESS&REG
Modules
ANVIL EXPRESS&REG Parametric Draughting highlights include -
Like all parts of ANVIL EXPRESS, the Parametric Draughting module uses familiar Windows menus, dialogs and buttons, to make learning and using it as simple as possible..


Allows multi-elevation 2D drawings to be gemetrically modified by dimension changes.


Design rules may be built-in by relational expressions, variable calculations, and variable transfers between files.


Complete families of parts may be generated from a single drawing.


Variable status is assigned automatically to all eligible dimensions.


Geometric relationships between elevations can be added automatically or manually, and revoked or replaced at will.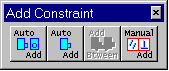 Under-constrained geometry highlighted by dynamic Degrees-of-Freedom animation.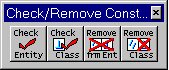 Parametric status can be added to legacy drawings.


The innovative AUTOSNAP 3-D geometry parser can create an associated solid model from the drawing.