ANVIL EXPRESS&REG
Modules
ANVIL EXPRESS&REG NC Machining highlights include -
Like all parts of ANVIL EXPRESS, the NC Machining modules use familiar Windows menus, dialogs and buttons, to make learning and using it as simple as possible.


Machining methods covered by the Base NC module include 2D Pocketing, Profiling, Turning, Engraving, and Drilling.

Machining methods covered by the 3 Axis NC module include Area Clearance, Plane Slice Milling, and 3D Pocketing and Profiling.


5 Axis module includes programmable tilt and lead, end and swarf cutting, geometry-controlled tool vectors, and contact radius control.


Wire EDM module allows for two-profile parameter control, tabbing, and offset cut control.


Associative toolpaths update at a stroke when geometry changes are made.


Provision for user-defined libraries of tools, macros, relations, strategies, and more.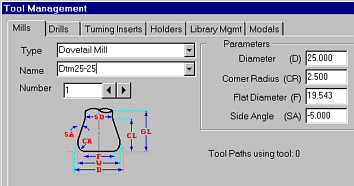 Visual cutting simulation available for all machining methods.


User-definable post-processors plus an extensive library of existing post-processors for many popular machine/controller combinations, which may be used as templates for similar machines.